Bio360 Expo - Dates Wednesday 8th to Thursday 9th February 2023 in Nantes, France
1st February 2023
Come and visit Protea at stand E40 for Bio360 Expo at the Exponantes le Parc des Expositions in Hall XXL located in Nantes, France. Bio365 is also an international meeting place for people and organisations who are engaged in and committed to accelerating the biotransition. Bio360 Expo comprises a large exhibition, a comprehensive international conference programme with simultaneous translation, study tours, the innovation competition, and more besides.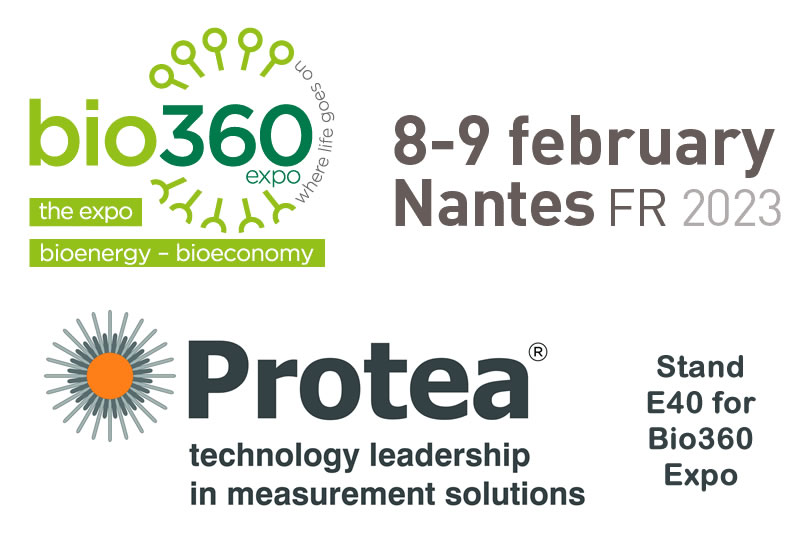 Because time is so short and there is so little room for trial and error, the imperative to knowledge share and collaborate could not be more pressing. Through its international exhibition and conference programme, Bio360 Expo does all in its power to be a platform where 1+1=3, where innovative collaborations are conceived, where success builds on success, enabling us to get there quicker. A crossroads for the worlds of agriculture, forestry and wood, public bodies and decision makers, bioindustry players, energy, research institutions, associations and pan-industry bodies, journalism, finance, legal. Bio360 Expo is the place that strives to bring all this together and to serve the transition to a new bioage where future generations can continue to thrive, sustainably.
Protea Ltd is the world's leading supplier of both fixed and transportable analysers to monitor Impurities in Biogas & Biomethane. Siloxanes are low-level hazards to the atmosphere in terms of their emissions, however when they are combusted in gas engines the hard silica that is produced is very harsh to the moving parts of the gas engine. Ultimately this increases maintenance cost and gives a lower energy output, making the generation of power less efficient.
With this ever-growing market, the need for analysis of the siloxane content of the biogas pre-generator is important. A land-fill gas plant operator can determine the amount of siloxane removal of the pre-combustion feed gas. This enables a more cost-effective cleaning system to be employed. They can also determine whether an existing clean up system is operating effectively. To visit the show please register at https://www.bio360expo.com/Login?aid=1183.
#protea #emissions #monitoring #cems #marine
Other Articles
27th September 2023
26th September 2023
22nd September 2023
18th September 2023
12th September 2023
04th September 2023
29th August 2023
21st August 2023
14th August 2023
08th August 2023