Developments in the CEMS market From Environmental Technology
7th April 2020
Protea recently appeared in an online emissions magazine article at Environmental Technology authored by Marcus Pattison on behalf of CEM. He stated "From an environmental perspective, continuous monitoring provides a better picture of process emissions because it is able to detect spikes and trends, whilst also providing emissions data during all process conditions". The article covered topics such as the UK still applying EU regulations, Industrial Emissions Directive (IED), Medium Combustion Plant, Waste Incineration & CEMS Developments.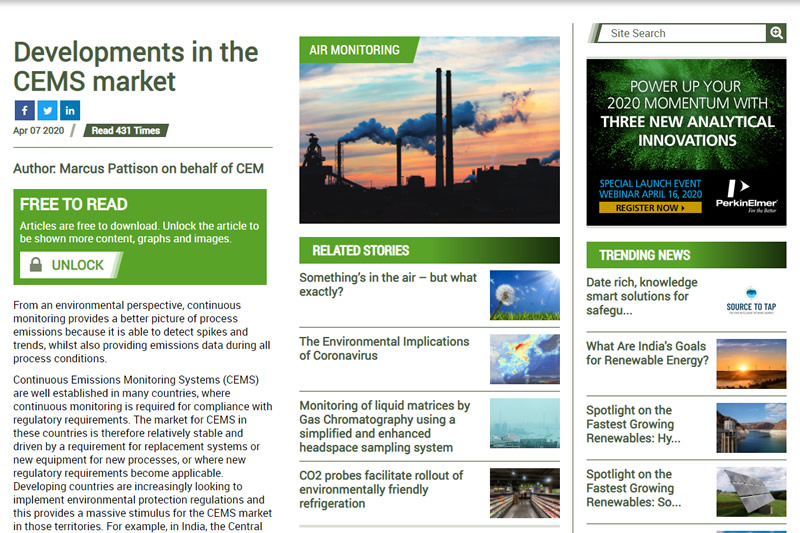 Recent innovations include the launch of SICK's MCS200HW which follows international standards such as 2010/75 / EU, EN15267 or EN14181 as well as US EPA, Part 75, for plants requiring a permit. The MCS200HW is a hot/wet extractive multi-component analyser for the continuous monitoring of up to 12 measurement components in the flue gases of industrial combustion plants. It features an innovative 12-inch touchscreen display with a task-oriented operator wizard and quick access to the main functions. Plant operators are also able to quickly access the analyser and its data remotely; wherever they are in the world.
Protea supplies both extractive and in-situ CEMS. The atmosFIR extractive CEMS are built around the company's FTIR technology, which is MCERTS approved for simultaneous multigas analysis. A standard gas suite of NO, NO2, N2O, SO2, NH3, HCl, CH4, O2, CO2 and H2O is provided, with the lowest range NOx measurement of any FTIR-based CEM. The technology allows further gases to be added easily using the company's software, without a requirement for further hardware. Protea's in-situ (IR or UV) CEMS are flange mounted to the emissions point, which removes the need for often costly and high-maintenance sample handling components.
Protea will be launching a comprehensive emissions reporting package for use with their full CEMS product range in 2020. "The provision of the reporting software alongside the full CEM system will ensure a fully configured and compliant emissions package of hardware plus software from us, giving a single supplier and support contact for our customers," says MD Andy Toy. "Both the CEM and the reporting software are provided with full remote diagnostics capability; which is hugely beneficial at times or in locations when on-site access is not always possible." Protea's CEMS are routinely employed by industrial process operators in compliance with their regulatory requirements. However, MD Andy Toy says: "The supply of equipment and services for the monitoring of emissions from marine vessels is a growing part of our business."
According to the International Maritime Organisation (IMO) MARPOL convention for the prevention of pollution from ships, from 1st January 2020 the sulphur content of fuel oil used by ships shall not exceed 0.50% - which is 80% lower than the previous limit. "This will undoubtedly lower SO2 emissions," comments Andy Toy. "However, ship operators may not be able to source low sulphur fuels, and fuels may become mixed onboard. In addition, some ships are equipped with emission scrubbers so they should be able to continue to use fuels with higher sulphur content. Our robust, certified monitors enable marine vessels to ensure that they operate their scrubbers effectively and that all vessels are able to demonstrate compliance with emissions regulations."
The full article can be found at https://www.envirotech-online.com/article/air-monitoring/6/cem/developments-in-the-cems-market/2729.
Other Articles
04th December 2023
27th November 2023
20th November 2023
13th November 2023
06th November 2023
30th October 2023
24th October 2023
23rd October 2023
16th October 2023
11th October 2023