Exhibitions List Announced For 2023
6th January 2023
A new year presents new opportunities for our business to network and exchange exciting innovations across a global platform. Our exhibitions list for 2023 has been announced and it consists of some excellent locations with world class facilities. We will be at Bio360 Expo in France, UK Pavilion Group at Sea Asia in Singapore, Nor-Shipping in Norway and CEM in Spain and look forward to meeting you during the year.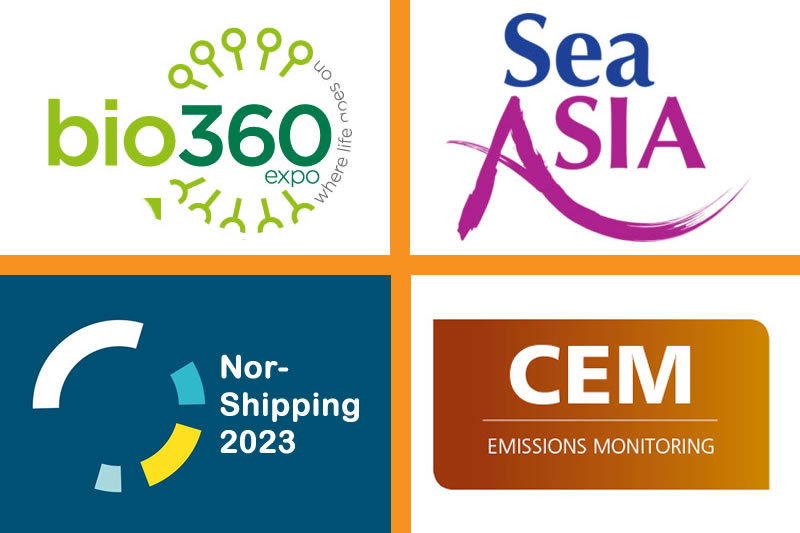 Bio360 Expo - Dates Wednesday 8th to Thursday 9th February 2023 in Nantes, France
Bio360 Expo is an international meeting place for people and organisations who are engaged in and committed to accelerating the biotransition. Because time is so short and there is so little room for trial and error, the imperative to knowledge share and collaborate could not be more pressing. Through its international exhibition and conference programme, Bio360 Expo does all in its power to be a platform where 1+1=3, where innovative collaborations are conceived, where success builds on success, enabling us to get there quicker. A crossroads for the worlds of agriculture, forestry and wood, public bodies and decision makers, bioindustry players, energy, research institutions, associations and pan-industry bodies, journalism, finance, legal … Bio360 Expo is the place that strives to bring all this together and to serve the transition to a new bioage where future generations can continue to thrive, sustainably.
UK Pavilion at Sea Asia - Dates Tuesday 25th to Thursday 27th April 2023 in Marina Bay Sands, Singapore
Sea Asia, a premier maritime conference and exhibition and Asia's Anchor Maritime and Offshore Event, will return to Marina Bay Sands in Singapore April 2023. The show will be held in conjunction with Singapore Maritime Week 2023, which brings together leading Shipowners, Offshore Operators, Ship-managers and Shipyard procurement teams from around the globe. Sea Asia enjoys strong support from government agencies and key trade associations, firmly establishing itself in the marketplace as the leading platform for both the global and local maritime and offshore communities to explore business, network and unveil new products and services. The 3-day conference and exhibition promises to provide a plethora of diverse marine products and services, with good networking opportunities.
Nor-Shipping - Dates Tuesday 6th to Friday 9th June 2023 in Oslo, Norway
Nor-Shipping is the meeting place for globally leading maritime players, technology innovators, investors, and all the stakeholders interested in realising ocean opportunities. An international arena for building cross industry partnership, business and sustainable ocean development. Nor-Shipping is Your Arena for Ocean Solutions. This is where the business of the ocean comes to life. Here you can learn more and find out what to do at Nor-Shipping and to get the best Nor-Shipping experience.
CEM - Dates Wednesday 20th to Friday 22nd September 2023 in Barcelona, Spain
CEM is an International Conference and Exhibition dedicated to Emission Monitoring. Delegates and Visitors will gain valuable insights into the latest regulation, technologies and best practices in monitoring and measuring industrial emissions. The 15th CEM conference and exhibition will take place in Barcelona Spain in September 2023. In 2023 the CEM event will be celebrating its 25th Anniversary, CEM first started in the United Kingdom in 1997 and has been held in The Netherlands, Denmark, France, Switzerland, Italy, The Czech Republic, Turkey, Portugal, India and Hungary. In 2022 the conference due to covid was held virtually attracting delegates from all over the world, building on this success we are now pleased to announce that CEM will be held Live on the 20th - 22nd September in Barcelona. Past visitors and delegates to the CEM events have come from a range of industries around the world that have a common goal and the need to monitor emissions from their plants or processes. For the 2023 event the Scientific Committee has expanded the conference program to now include the pressing issues of achieving Net Zero Emissions.
#protea #emissions #monitoring #cems #marine
Other Articles
04th December 2023
27th November 2023
20th November 2023
13th November 2023
06th November 2023
30th October 2023
24th October 2023
23rd October 2023
16th October 2023
11th October 2023