P300 Extractive Gas Analyser
Protea P300 is an infra-red (IR), extractive multi component analyser to provide analysis of up to six gas-phase or liquid process components.
Options Include:
Hazardous Area Certification
High pressure sample cell
Heated sample cell
Integrated HMI with standard industrial communication
GRP cover enabling the analyser to be field mounted
Panel / Wall mounting kit
Protea P300 is a versatile configurable photometric gas and liquid analyser technology from Protea. The P300 system is an extractive multi component analyser utilising Protea's advanced high pressure cell technology. The analyser is capable of monitoring up to six (6) gases or liquid process components simultaneously with a high level of accuracy. At the heart of P300 is a high-resolution, robust and proven Protea photometer offering high signal throughput, low-noise and long lifetime of components. The P300 has been developed to incorporate the latest techniques in photometry and our proven technologies developed over many years, resulting in:
Low cost of ownership
Low maintenance cost
Advance Protea S – PC or P-HMI software options to calculate, display and retransmit monitor gas or liquid concentrations
Robust and light, the P300 combines the Protea P2000 optical bench analyser with our highly unique transmission sample cell
The sample cell is designed to operate at elevated pressures and temperatures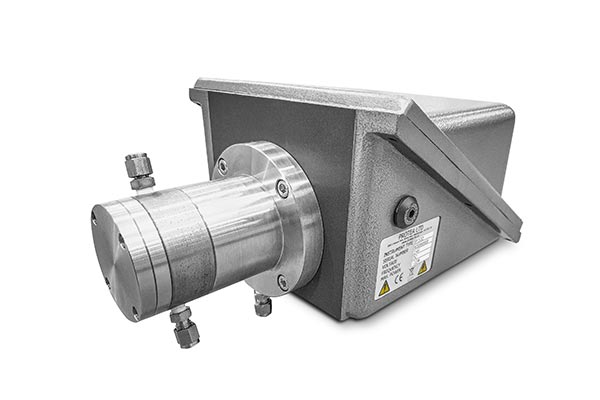 The P300 is the result of many year experience in the Process and Continuous Emission Monitoring field suppling advanced instruments into many demanding applications.
These advances have significantly improved performance over competitive products, due to combining the proven P2000 optics with the advanced external sample cell. The P300 is optical bench has seen extensive service over many years and incorporates all the features of the Protea P2000 including long life IR source (>10 years), high specification DC filter wheel motor (>10 years) and state of the art signal processing. The optical bench was designed and utilised in high vibration application such as marine CEMS so has a "second to non pedigree" requiring minimal maintenance with sophisticated diagnostic routines the analyser requires minimal intervention with a high availability.
---
Features
Multi-component gas analysis
High Pressure (Option)
Heated Cell (Option)
Automatic signal verification and recalibration
Sample pressure monitoring
Sample temperature monitoring
Low maintenance
Detachable sample cell
Hazardous Area Certification Atex / IEC
Diagnostics monitor analyser / system health
Benefits
Each P300 can measure up to six components
In many applications negates the need for pressure reduction
Avoids condensation in the cell
No operator intervention during routine use
Automatic sample pressure compensation
Automatic sample pressure compensation
Only one moving part, designed for maximum availability
Ease of maintenance
No need for EXp purge control
Enables preventive maintenance and remote support
---
Examples of Monitoring Ranges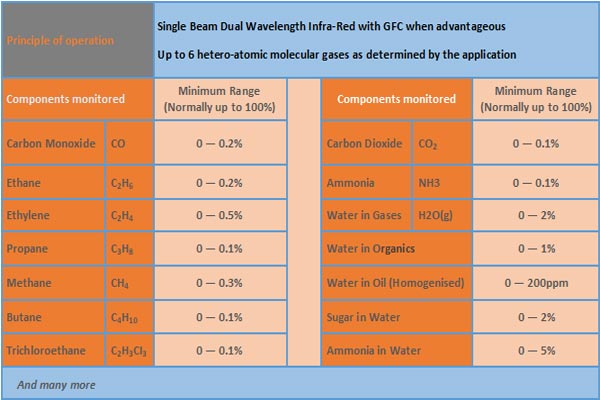 ---
Principles of Operation
The Protea IR analyser operates on the proven, single beam, dual-wavelength IR light principle. Mid IR Pulses, at two specific wavelengths per monitored gas, are transmitted through the sample cell. The 'measure' pulse is partially absorbed by the gases being measured while the 'reference' pulse remains unaffected. Up to eight wavelengths are available, sometimes sharing reference wavelengths, allowing up to six gas-phase component concentrations to be monitored simultaneously. Uniquely, the operation, zero and calibration are "fully challenged" in that all operating modes use the same optical path and system components. The folded beam sample cell incorporates both sample temperature and pressure measurements allowing the reported concentration to be corrected for any effect of temperature or pressure. The robust demountable sample cell incorporates, cell windows manufactured from Calcium Fluoride (CaF2), retro reflector and sample pipe connections.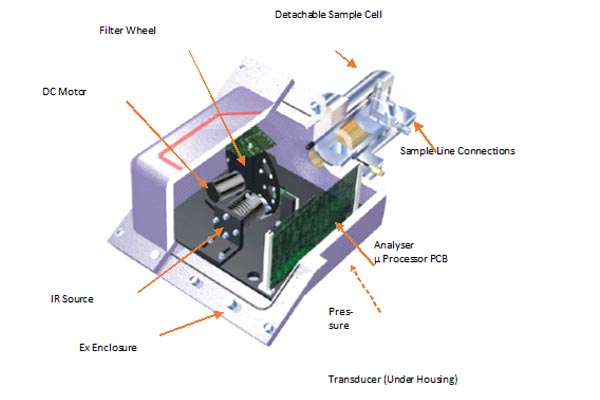 ---
Examples of Monitoring Ranges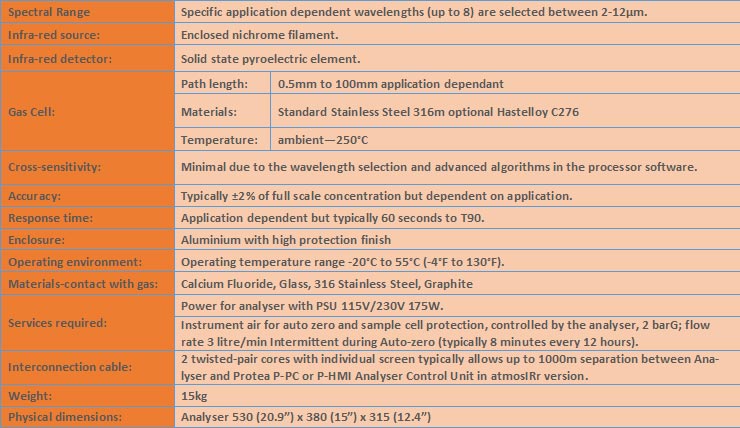 ---
Protea Systems
Protea design and manufacture fully integrated bespoke systems housing our range of analysers in various enclosures and shelters to meet the project specification this includes supply and control of all the necessary sample handling components such as heated sample probes, heated lines.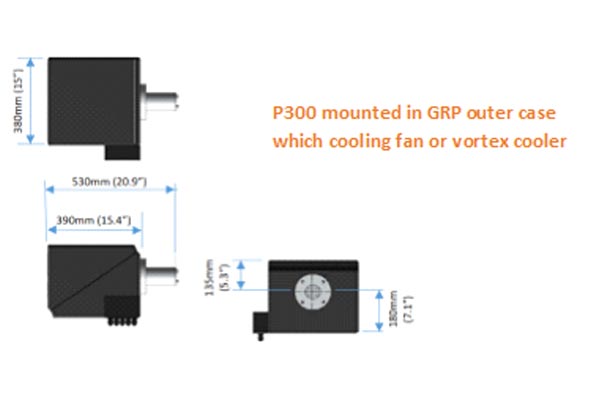 ---